Toolbar includes icons to provide access to the most popular DAEMON Tools Pro features: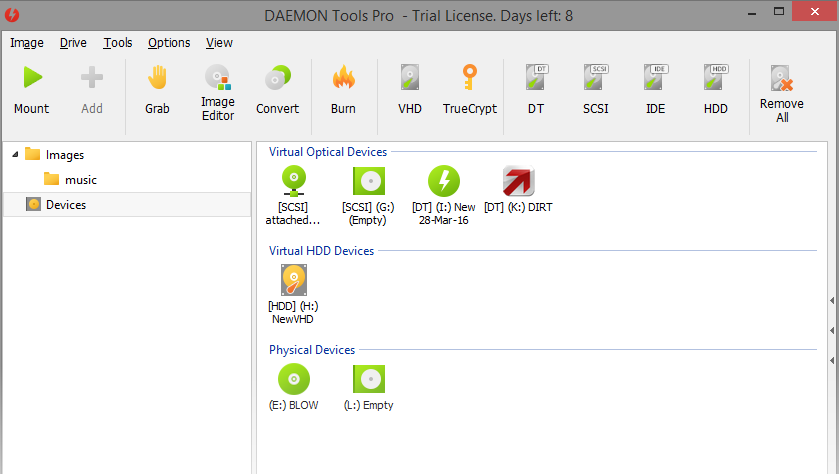 Some of the icons are active always, the other ones are used only for Images or only for Devices tabs.
Using the basic toolbar icons, you can:
Mount an image from your computer to the new DT drive or to the first available one (if this mounting order was defined in Preferences).
Grab a physical disc and create a new image from it.
Open Image Editor to create an image from files, burn a data disc or an Audio CD, protect a disc with password, etc.
Convert an image type.
Burn an image to disc.
Create a VHD — a new virtual hard disk.
Create a TrueCrypt container — the encrypted VHD.
While you are on Images tab, you can also use Add icon to find and include one or several new images to your collection. In addition, you can choose an image from the tab and click Burn or Convert to burn or convert this particular file.
When you switch to Devices, you are getting access to DT, SCSI, IDE and HDD icons that allow you to create the relevant virtual drive. Remove All icon deletes all virtual drives from the system. Note that you won't be able to revert this action.
Note that SCSI and IDE functionality is limited in Windows 10.