DAEMON Tools Pro Gadget allows using virtual devices and mount images from simple but smart desktop tool.
To start using it, go to the desktop contextual menu, choose Gadgets option and find DAEMON Tools Pro among the available gadgets.
With DAEMON Tools Pro Gadget, you can perform several important steps shown on the picture below: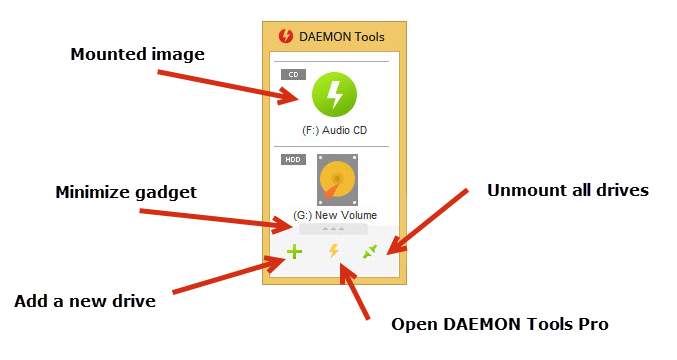 DAEMON Tools Gadget can be used only on Windows Vista/7/8.
DAEMON Tools Gadget is selected by default in the components list during installation. If you turn off this component during installation, you may install it later:
Right click on the desktop and select Gadgets menu item. Then locate it and drag'n'drop onto the desktop
Find DAEMON Tools Pro installation folder on your hard disc drive ("C:\Program Files\DAEMON Tools Pro\" is a default one). Double-click on the DT.gadget to start installation process
Click Start -> All Programs -> DAEMON Tools Pro -> DTGadget
Click Install then.