To uninstall DAEMON Tools Pro, you need to start the wizard. There are several ways to do it:
Go to the Control Panel, and choose Programs and Features section there. Find DAEMON Tools Pro in the list and click Uninstall/Change button

Go to the installation folder of DAEMON Tools Pro and execute "uninst.exe" file. The default folder is: C:\Program Files\DAEMON Tools Pro

Execute the setup file used to install DAEMON Tools Pro. Then click Next and choose Uninstalling DAEMON Tools Pro option
No matter which way you have chosen, the next step is to click Uninstall button and wait a few seconds while the application is being uninstalled.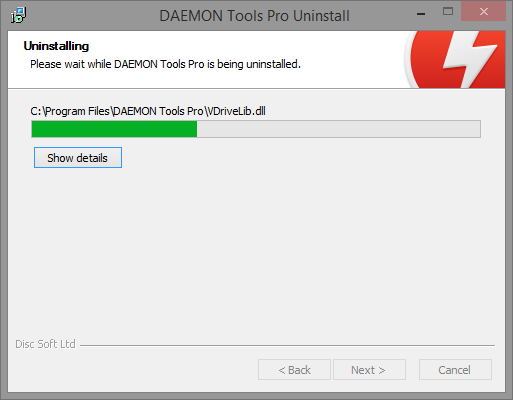 After a while, DAEMON Tools Pro will be completely removed from your hard drive.
Check Send feedback option to let us know why you have decided to remove our software from your computer and click Finish button to exit the wizard.