Since DAEMON Tools Pro 8, we offer subscriptions together with the perpetual licenses. To start using DAEMON Tools Pro 8, you can choose from several low-priced subscription periods and then prolong your subscription when you need an app again. Before you go, here is 14-day Free Subscription that may help you evaluate the features.
You can activate DAEMON Tools Pro during the installation. If you already have an account on www.daemon-tools.cc, you should enter your account credentials to activate your subscription or create a 14-day free one. Otherwise, you should register: enter your email for the account and subscription. In this case, you will get a welcome mail with your temporary password, validation link and further instructions.
After DAEMON Tools Pro is installed, you can check the activation info in License... from Options menu: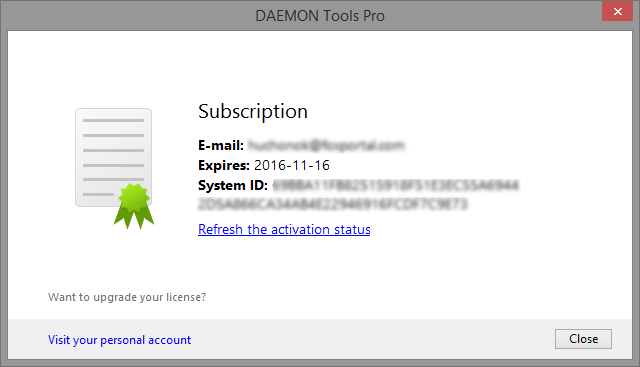 Also, here you can Refresh the activation status after you purchased the upgrade for your subcription if the info about it hasn't been updated automatically.
While you are using a Free Subscription, you can re-login to another email using Change button on License... wizard. To change an email for the Paid Subscription, please contact our Support Team.
DAEMON Tools Pro 7.1 and earlier versions are activated by serial numbers.