Convert feature allows you to save some image or images to another format (to MDX, MDS or ISO). This feature will be helpful if you want to adjust the advanced parameters of an image. The biggest list of settings is available for MDS files.
To convert an image, choose it from Images catalog and click Convert… option from its contextual menu. Also, you can use Convert icon on the toolbar or select the relevant option from Tools menu.
Then you will need to perform several easy steps: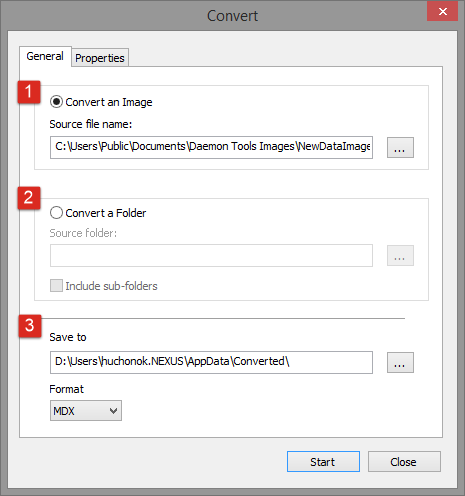 Choose an image you want to convert. use Browse... button to simplify this process.
Alternatively, you can choose a folder with several images to convert them all at once.
Choose where to store the converted image.
Select the Format (MDS, MDX, ISO).
The basic options are adjusted, but you can get more on Properties tab. Note that the quantity of available advanced parameters depends on the chosen format. So, here you can: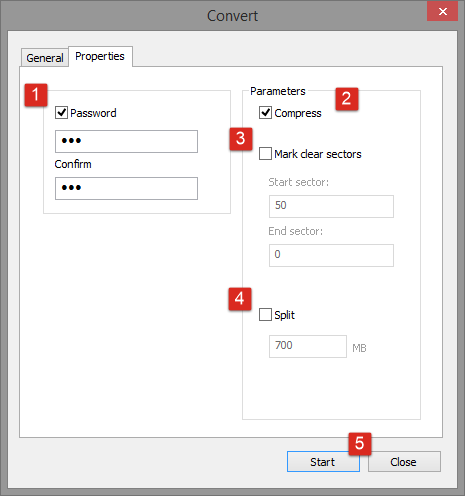 Protect an image with password. After checking this option, you will need to enter your password and confirm it.
Check Compress option in order to reduce the size of the converted image.
Mark clear sectors to reduce the file size by deleting several sectors of the image. After checking this option, you will be able to set the number of the first and the last sectors marked as clear.
Split an image in volumes. Most often this option is used to create several volumes of image file and burn them on CDs or DVDs. After checking this option, you will be able to redefine the size of the volume.
Click Start button to begin conversion or Close button to cancel.
Wait a few moments while an image(s) is(are) being converted.